Significant unmet needs remain for patients with immune-mediated and cholestatic liver diseases, compounded by a broad disease manifestation spanning several body systems and a multifaceted aetiology that complicates the search for new drug targets. With a dedicated track for this challenging area, Digital ILC 2020 brings the clinical and scientific communities together in a showcase of the latest knowledge and experience from leading experts.
The immune-mediated and cholestatic diseases programme will allow you to learn, share, and interact, due to its engaging structure: with poster tours, abstract sessions, interactive sessions, industry symposia, meet the experts, and wrap up sessions.
Digital ILC 2020 highlights:
Immune-mediated and chronic cholestatic liver disease - Clinical aspects
How is the field of immune-mediated and cholestatic diseases evolving in hepatology? What research is emerging?
To find out more, watch this video, "Highlights of clinical aspects", presented by the session Co-Chair, Prof. Marco Marzioni.
Save the date to watch the full session at Digital ILC on 28 August 2020, 15:30–17:00 CET.
Digital ILC 2020 abstract session:
Immune-mediated & chronic cholestasic liver disease: Experimental & pathophysiology
Discover new and emerging findings in the field of immune-mediated and cholestatic liver diseases.
By joining this session, you will find out which immunological pathways are important in driving the development of cholestatic liver injuries. Also, new data will be presented on which molecules could potentially be used as future therapeutic tools.
Save the date: 27 August 2020, 11:00-12:30 CET
Explore the Immune-Mediated & Cholestatic Diseases track at Digital ILC 2020
Cholestatic and immune-mediated liver diseases are currently incurable. Treatment options allow a degree of symptomatic control, but do not significantly halt disease progression.
With much still to learn about the genetic and cellular processes that underlay cholestasis, and complex aetiology that affects management approaches, Digital ILC 2020 will be a vital platform for hepatologists, scientists, and other healthcare professionals to share their experience in this area, hear about the latest breakthroughs, and take the next steps in improving the short- and long-term health outcomes of their patients.
Discover below all sessions regarding immune-mediated and cholestatic diseases to be held at Digital ILC 2020:
Zoom in on a session
Itch and fatigue in cholestatic liver disease
Cholestatic liver disease can be highly symptomatic, and those symptoms can have a significant impact on the quality of life. For many patients, the impact of these symptoms, which are typically not related to conventional markers of disease severity and can occur throughout the disease course, is greater than that form risk of disease progression.
Two symptom types predominate:
itch, which has long been recognised as a feature of cholestasis and

fatigue, which is increasingly being recognised as an important problem.
This session will cover both current best practice for symptom assessment and management, and emerging understanding of the mechanisms that underpin them and that will lead to new treatment approaches. Specific topics to be covered will include:
Current management approaches for both itch and fatigue, as outlined in Clinical Practice Guidelines and drawing on wider expert experience

Guidance you can give to your patients to help them cope with symptoms

Current understanding of the mechanisms of both itch and fatigue and how this will lead to new approaches to treatment

The complexity of fatigue, the balance between central and peripheral components and the relationship to depression

The challenges of trial design in symptoms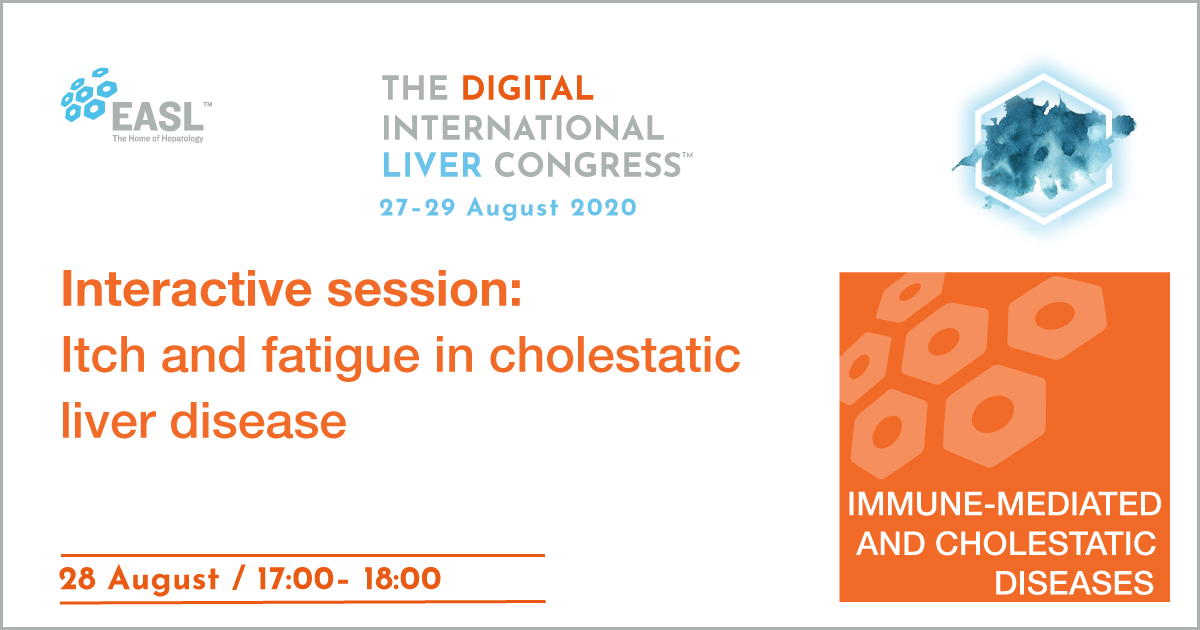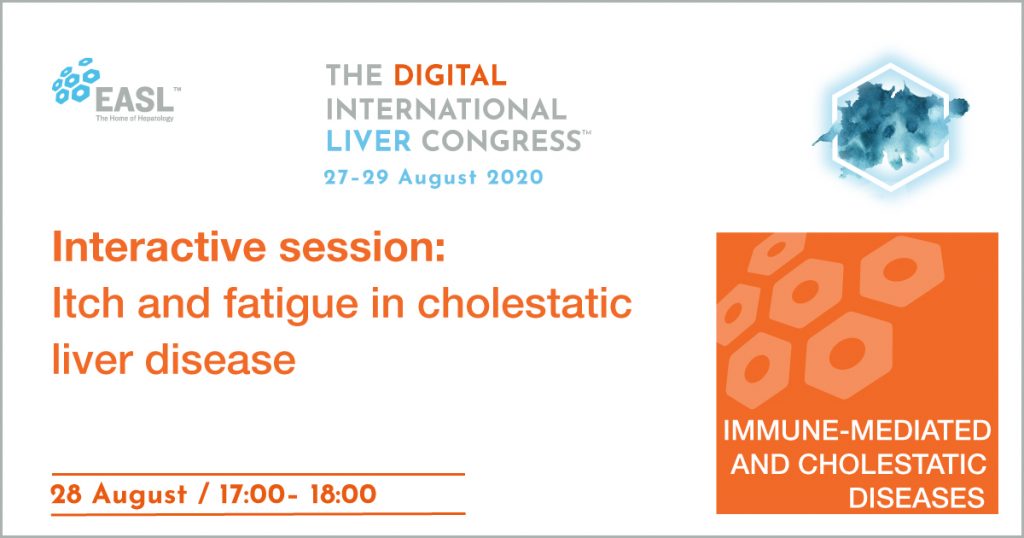 Register for Digital ILC 2020
We trust that this glimpse of key sessions dedicated to Immune-Mediated & Cholestatic Diseases has convinced you to register for Digital ILC 2020.
Digital ILC 2020 is the key event for you to learn, share, and interact with some of the greatest names in hepatology. The event will showcase the latest in science and the most important global updates in liver disease management thanks to:
1.    159 chairs from 18 countries
2.    Abstracts submitter authors from 50 countries
3.    Abstract presenters from 56 countries
3.    98 sessions
4.    Over 100 hours of video content
5.    Faculty diversity: 88 women and 125 men
Very special registration rates are now available, starting at 100 euros.
Do you need more reasons to register?
Here are our top 8 reasons to attend the Digital ILC 2020:
100+ hours of cutting-edge scientific content
all the scientific content will only be available to registered participants
registration includes the exclusive access to the full on-demand content until 31 December 2020
access to Digital ILC Takeaways, post-event interactive discussions with key opinion leaders
dedicated session on COVID-19 and the liver
scientific programme of global reach and relevance
digital platform with high interactivity, close to onsite experience
wide range of sessions with engaging scientific and educational content
Prepare yourself for Digital ILC 2020
Educational resources from EASL Campus
EASL Clinical Practice Guidelines on Immune-Mediated and Cholestatic Diseases
This guideline on Role of Endoscopy in Primary Sclerosing Cholangitis is an official statement of the European Society of Gastrointestinal Endoscopy (ESGE) and EASL on primary sclerosing cholangitis. In order to define the strength of recommendations and the quality of evidence,  we have adopted The Grading of Recommendations Assessment, Development and Evaluation (GRADE) system.
Primary Biliary Cholangitis (PBC) is a chronic inflammatory autoimmune cholestatic liver disease. Most importantly, when untreated, it will culminate in end-stage biliary cirrhosis. Diagnosis is usually based on the presence of serum liver tests indicative of a cholestatic hepatitis in association with circulating antimitochondrial antibodies. Patient presentation and course can be diverse and risk stratification is important. Most important is to ensure all patients receive a personalised approach to their care.