The curative potential of direct-acting antivirals (DAAs) for hepatitis C virus (HCV) infection have transformed hepatology in recent years. However, the challenge of identifying more people living with HCV remains, and further progress is needed with other forms of viral hepatitis. The Viral Hepatitis track at Digital ILC 2020 updates on our progress towards HCV elimination and highlights the latest breakthroughs in finding a cure for hepatitis B.
The World Health Organization has called for elimination of viral hepatitis as a global public health threat by the year 2030 and Digital ILC 2020 will provide a platform for leading experts to discuss the remaining obstacles to HCV elimination and review the upcoming treatments and new insights for other forms of viral hepatitis.
The Viral Hepatitis programme will allow you to learn, share, and interact, due to its engaging structure containing poster tours, abstract sessions, interactive sessions, industry symposia, meet the experts, and wrap up sessions.
Digital ILC 2020 highlights:
Hepatitis B and D drug development
What is the latest in viral hepatitis research? What developments are in the pipeline for Hepatitis B and D?
To find out how this research area is evolving, watch this video, "Highlights in Hepatitis B and D drug development" from the session Co-Chair, Dr Markus Cornberg.
Save the date to watch the abstract session itself at Digital ILC 2020 on 28 August 2020, 11:00-12:30 CET.
Explore the Viral Hepatitis track at Digital ILC 2020
Discover below all sessions regarding viral hepatitis to be held at Digital ILC 2020:
Zoom in on a session
HEV - From virology to treatment
Hepatitis E virus is one of the most common causes of acute hepatitis and jaundice in the world. In addition, HEV can cause diverse neurological as well as other extrahepatic manifestations and trigger acute-on-chronic liver failure in patients with preexisting cirrhosis.
This interactive session will provide a state-of-the-art update on Hepatitis E, including an overview on current hot topics in this area, the molecular virology and pathogenesis of hepatitis E, as well as the prevention and treatment of HEV infection. Key points:
provide a primer on the epidemiology, clinical manifestations, diagnosis and management of acute and chronic hepatitis E
highlight advances in research on the HEV life cycle and the identification of targets for antiviral intervention
discuss the immune response to HEV as well as determinants of infection outcome
provide an overview of current and emerging preventive as well as therapeutic strategies.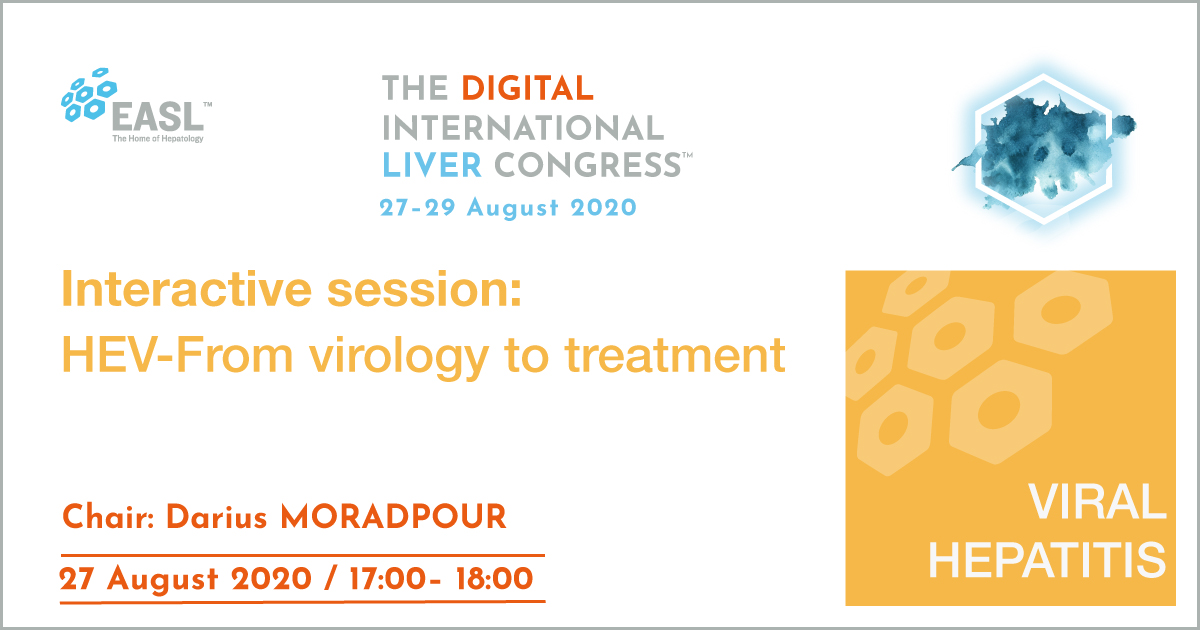 Register for the Digital ILC 2020
We trust that this glimpse of key sessions dedicated to Viral Hepatitis has convinced you to register for The Digital ILC 2020.
The Digital ILC 2020 is the key event for you to learn, share and interact with some of the greatest names in hepatology. In addition, the event showcase the latest in science and the most important updates in liver disease management. All these at a global level, thanks to:
1.    159 chairs from 18 countries
2.    Abstracts submitter authors from 50 countries
3.    Abstract presenters from 56 countries
3.    98 sessions
4.    Over 100 hours of video content
5.    Faculty diversity: 88 women and 125 men
Very special registration rates are now available, starting at 100 euros.

Do you need more reasons to register?
Here are our top 7 reasons to attend the Digital ILC 2020:
100+ hours of cutting-edge scientific content
all the scientific content will only be available to registered participants
registration includes the exclusive access to the full on-demand content until 31 December 2020
dedicated session on COVID-19 and the liver
scientific programme with global reach and relevance
digital platform with high interactivity, close to onsite experience
wide range of sessions with engaging scientific and educational content
Prepare yourself for the Digital ILC 2020
Educational resources from EASL Campus
EASL Clinical Practice Guidelines on Viral Hepatitis
Hepatitis C virus (HCV) infection is a major cause of chronic liver disease. As a result, in 2018, worldwide there were approximately 71 million chronically infected individuals. Clinical care for patients with HCV-related liver disease is advancing considerably. Most importantly thanks to an enhanced understanding of the pathophysiology of the disease. And also because of developments in diagnostic procedures and improvements in therapy and prevention.
EASL Recommendations on Treatment of Hepatitis C describe the optimal management of patients with acute and chronic HCV infections in 2018 and onwards.
Hepatitis B virus (HBV) infection remains a global public health problem with changing epidemiology due to several factors including vaccination policies and migration. Most importantly, all patients with chronic HBV infection are at increased risk of progression to cirrhosis and hepatocellular carcinoma (HCC). This depends on host and viral factors. Several subgroups of patients with HBV infection require specific focus. Most importantly, future treatment strategies to achieve 'cure' of disease and new biomarkers are discussed.
Therefore, the EASL Guidelines for Hepatitis B presents updated recommendations for the optimal management of HBV infection.
EASL Policy Statements on Viral Hepatitis
The aim of this policy statement is to inform policy-makers, health care professionals, affected communities and patients that HCV can- and should- be eliminated as a public health threat by 2030, or even earlier as could be the case in many central and western European countries.
We believe that medical associations and clinicians, in collaboration with other key stakeholders, such as patients and affected communities, play a critical role in eliminating HCV as a public health threat and we commit to working with the HCV community to do so.
The safety of blood products has been a concern during the last 5 decades. Subsequently, testing for HIV, HBV and HCV has been implemented in most countries world-wide. There is emerging evidence that also the hepatitis E virus (HEV) can be transmitted by transfusion of different types of blood-derived products.
As HEV infection can cause severe acute and chronic liver disease as well as a variety of non-liver disease manifestations, the aim of this policy statement is to inform policy makers about the possibility of preventing transfusion-transmitted HEV infection by screening blood donations for HEV RNA.
Read EASL's Policy Statement on Screening of blood donations for hepatitis E virus (HEV)